Beautiful Islands in the South Pacific
Beautiful Islands in the South Pacific
While all the islands of the South Pacific have crystal-clear waters, palm-fringed beaches, and endless sunny days they're all unique. Their cultures are different and once away from the coast, their interiors vary from flat lagoon-filled plains to breathtaking mountain scenery.
One of these beautiful islands in the South Pacific might just be your perfect destination whether you want to laze on the beach all day or be more energetic and hike, dive, snorkel, surf, sail, or fish.
Where are some of the best islands to visit in the South Pacific?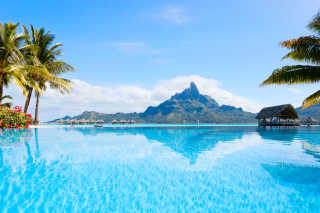 1. Bora Bora, French Polynesia
The lush mountains of Otemanu and Pahia tower over a turquoise lagoon making Bora Bora so beautiful it's called the 'queen' of the South Pacific. Intersperse lazy days on the beach with adventurous mountain hikes or snorkelling among gentle rays and sharks. Luxurious overwater bungalows help make this a romantic honeymoon destination. Bora Bora is less than an hour's flight from Papeete which has links to Australia, New Zealand, and Paris.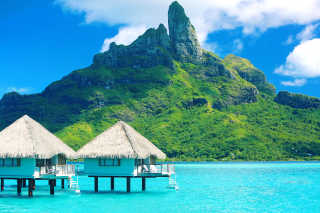 2. Aitutaki, The Cook Islands
Take a flight from Auckland or Sydney to Rarotonga and then hop on a plane to Aitutaki atoll. Aitutaki is a classic tropical island with awe-inspiring beaches and coral islets clustered around one of the world's most photogenic lagoons. On this idyllic spot, you can swim, sunbathe, kayak, snorkel and dive or explore the ancient temples or marae that dot the landscape. Once here, it's so easy to imagine that you're on your own private island.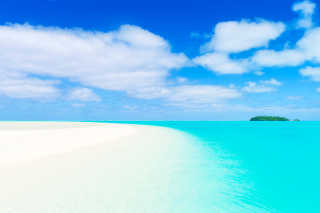 Fiji is one of the most visited archipelagos in the South Pacific, but once on Mamanuca Island, you'll find fewer visitors, warm hospitality and a relaxed way of life. Fly to Fiji and then, depending on your budget, continue your journey by catamaran ferry, helicopter or floatplane. Mamanuca is renowned for its surfing. Cloud Break is one of the world's most famous surfing breaks. If surfing is too energetic, spend lazy days on coral-edged beaches.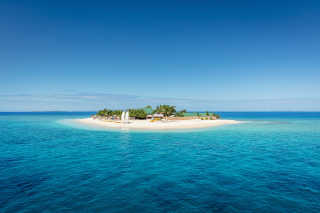 4. Upolu, Samoa
A five-hour flight from Sydney takes you to one of the Pacific's most romantic islands - Upolu in Samoa. Here days go by as they have done for centuries with locals living life fa'a Samoa (the Samoan way). Samoa, lying halfway between New Zealand and Hawaii, is a place of jagged volcanoes, lush jungle, and waterfalls cascading over sheer cliffs. Its coastline is ringed by pristine coral reefs. Add a bit of culture to your water and jungle adventures by visiting the Robert Louis Stevenson Museum in Apia, former residence and final resting place for the famous author of Treasure Island.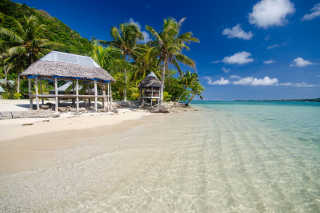 5. Palau
The Palau archipelago of 500 or more islands is perfect for diving. Once in the turquoise waters, you'll find yourself among soft coral, tropical fish, giant clams and rays. Palau is also renowned for World War II wreck diving while the Ngemelis Wall (Big Drop-Off) is considered the world's best wall dive. Dive in Jellyfish Lake and you'll be surrounded by weird and wonderful but stingless gold jellyfish. Back on dry land, hike to waterfalls and discover Polynesian stone monuments. Palau is a two-hour flight from Guam which is connected to the USA, Japan, and the Philippines.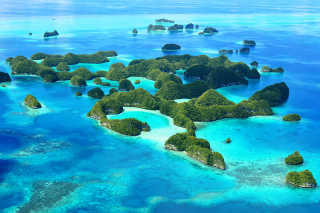 6. Espiritu Santo, Vanuatu
Whether you're a beach lazer or an adventurer, you'll love the laidback atmosphere of pretty Espiritu Santo or 'Santo', Vanuatu's largest island. Spend the day swimming and sunbathing on Champagne Beach or snorkel above coral gardens and the wreck of the SS President Coolidge. Trek across bamboo bridges to Millennium Cave or enjoy the thrill of horseback riding along empty stretches of sand. Fly from Brisbane or Sydney to Vanuatu's capital, Port Vila, and then take a short flight to Santo.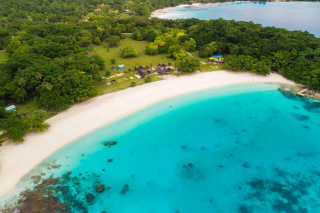 Guests are limited on Lord Howe Island so be sure to book well in advance. Formed from a long-inactive volcano, much of this World Heritage-listed island is now a nature reserve and a real draw for birdwatchers. Hike up Mount Gower or Malabar Hill for astounding views or snorkel off Elizabeth Reef among colourful fish and coral. Bicycles are the main form of transport making this an eco-friendly destination for nature lovers. Lord Howe Island is a two-hour flight from Sydney or Brisbane.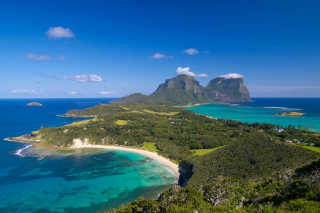 Beautiful landscapes in the South Pacific
Stop dreaming, add these destinations to your travel bucket list
If you love sunny days, beautiful scenery and outdoor life our pick of beautiful South Pacific islands should inspire you. When you're ready to book flights for any of these destinations, let CheapTickets.co.th help you plan with your next adventure.
---
Want to read more on beautiful places in the world?