Best Christmas Towns in the World
Best Christmas Towns in the World
Decorated in colourful tinsel and lights, with nativity and reindeer displays, carolers in the streets and cheerful festive season markets, some towns feel the Christmas spirit a little more than others! From snowy winter fests complete with skiing and elves to Christmas against the backdrop of the Northern Lights, the Best Christmas Towns in the World come alive with sparkle and joy in late November and December each year. Let's take a look at some of the best Christmas towns and villages around the globe to help you plan your festive season vacation.
Where are the best Christmas Towns?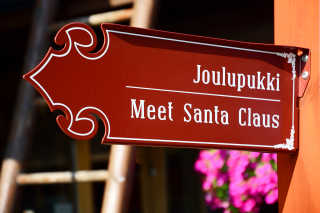 Leavenworth, in the Cascade Mountains of Washington state, is a Bavarian-styled town complete with Alpine-style buildings. plenty of taverns serving German beer and Front Street - the city's recreation centre. In December, the city comes alive with dozens of Christmas displays, half a million twinkling lights, festive music, shows, parades sleigh rides and a reindeer farm where children can feed them. You can attend a lighting ceremony and listen to Christmas carols throughout December. During the annual Lantern Parade, children carry lanterns they have made as they walk with Mr and Mrs Claus. The annual Christmas market is held at the festival halls and on Front Street.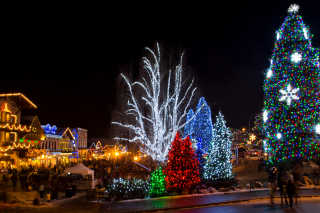 The Nuremberg Christmas Market in Germany is famous around the world for its colourful local artists' displays, German foods like Nuremberg sausages, gingerbread, Bavarian beer, and its festive season stagecoach tour. Bells and hoof beats herald the arrival of the yellow coach and children sing Christmas songs as they take in the lights and sounds of the city. The Christmas market dates back to the 16th century and you can buy festive season decorations and ornaments and other gifts from all over the world. The famous Prune Men were once made by an 18th century wirer who only had wire and homegrown prunes from which to create Christmas gifts. This tradition remains today.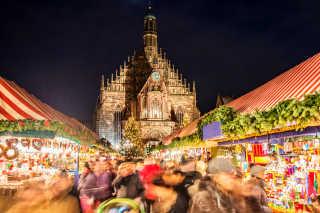 Lapland at Christmas time is a magical experience and if you are lucky you will also be able to see the northern lights. The official hometown of Santa Claus in Nordic countries, Rovaniemi in Finland offers plenty to see and do over the Christmas period. The Santa Claus Village is open to children of all ages who can meet the big man himself during the festive season. There are shops, restaurants and cafes as well as snowmobile tours, reindeer and husky rides and ice displays. You can also visit an ice igloo or attend Elf School! Send a letter home with a unique Arctic circle postmark before you continue your travels.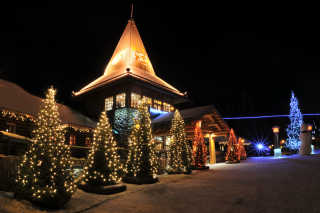 New York is a great location to spend Christmas and New Year. The Macy's Herald Square Thanksgiving Parade and festivities, Times Square, Rockefeller Center and the lighting of the Christmas tree are all well worth the experience. It's a great place to spend Christmas if you have a limited budget, as there are so many free activities to enjoy. The streets are decorated with twinkling lights, trees and tinsel and there are special shows and children's activities, holiday window displays and walking tours for the whole family. The bright lights and big city of New York really is a delight over the holidays!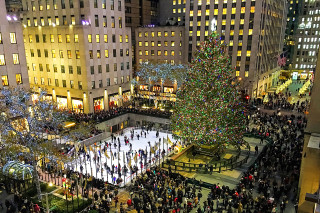 So the real "North Pole" is unfortunately located in the middle of the Arctic Ocean, so you can only go there by boat, BUT there is actually a town called "North Pole" in Alaska, US. Known for its year-round Christmas decorations, the North Pole is located a 20 minute drive from Fairbanks, Alaska. In this pretty city you will find candy-cane–striped street lights, the local Christmas store called Santa Claus House with walls covered in children's letters to Santa. The huge Santa statue outside the store leaves visitors in no doubt that Christmas is important to both locals and those that come to absorb all things festive. Kris Kringle Drive and Mistletoe Lane are just some of the fun street names in the city and you can take a guided tour on a snowmobile.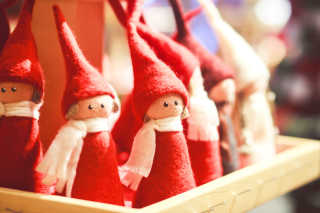 Spending Christmas abroad
Remember that you can book a wide range of flights over the festive season and learn all about Christmas in Lapland, New York or Germany, visiting the best Christmas villages and meeting Santa on the way. Spending time in a snowy festive village creates memories to last a lifetime. Add a holiday trip to one of these great Christmas Towns in your future bucket list! At CheapTickets, we'll compare flights for you to take the hassle out of finding the best deals around the globe, so you've got a little more to spend on Christmas presents.
---
Want to read more travel tips?