Best countries for backpacking in Asia
Best countries for backpacking in Asia
The best countries for backpacking in Asia offer a culturally rich, eastern perspective and plenty of adventure. The combination of majestic natural scenery, challenging trails, local people and customs and the pursuit of personal travel goals makes backpacking around Asia a rewarding experience for keen wanderers. Whether you backpack alone, as a couple or group of friends, the towering mountains, bustling cities, wilderness areas and tourist landmarks of the regions below make a visit to Asia worthwhile.
Where can I backpack in Asia?
Thailand
The gorgeous mountain-top views of Thailand combine with beautiful waterways and lush forested coves to create a stunning and immersive experience. The country is popular with young people in search of adventure and solitude. Once you've exhausted the Grand Palace, Wat Pho, Giant Swing or fascinating malls of Bangkok and Phuket, head for the Chiang Mai Province in Thailand. The north of Thailand is a rural paradise with fewer tourists than the south and is embodied by the ruined Wat Chedi Luang temple in the city centre, and the green gardens of the Bhubing Palace. There are numerous restaurants and watering holes as well as a buzzing nightlife to sample. The best months to visit Thailand are between November and April when temperatures are cool and the weather is dry.
Tip: Food from street sellers is of a high standard and delicious, save on meals by supporting local vendors.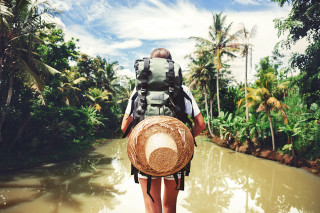 China
First adventures in China must include a visit to the Great Wall in Beijing. After that, the Yangshuo Park region in China is well worth a visit. This rural region has been popular with backpackers since the '80s and is a quieter, wild riverine region between Li and Yulong rivers. Here backpackers can explore the intriguing karst peaks, hills, dark caves and Yangshuo Moon Hill. This unusual limestone pinnacle has a moon-shaped hole and can be reached by first braving 800 stairs. China is home to the Han, Tibetans, Mongols and Korean cultures which means you will experience the food, crafts and cultures of many different ethnic groups. The mix of food, temples and natural areas in China creates an ideal location for backpackers. The best weather in China is from April to May (during the months of spring) and again during autumn (September-October).
Tip: Internet access in China is partially or completely blocked so keeping in touch may be difficult. Get a VPN before you go!
Indonesia
North of Lombok in Indonesia you will find the archipelago of the Gili Islands. Popular with backpackers during the early '80s, the area became a magnet for young people trying to get away from it all at an affordable price. Today the area still has no car traffic, using horse and cart travel instead. However, there are Japanese eateries, good hostel accommodation, and incongruously a lively Irish bar! The island is home to sea turtles, peaceful diving sites at Shark Point, beautiful white sand beaches and a very slow pace combined with excellent privacy. Next stop: Bali - where you can see volcanic landscapes, and the world famous Kuta beach. The best months to visit are from May to October when the weather is dry. Papua and Maluku are best visited between September and March.
Tip: Providing a tip for service isn't standard practice in Indonesia as this may be included in your bill but if you want to show some extra gratitude this will be welcomed.
Vietnam
The limestone islands of Halong Bay and Cat Ba island in Vietnam's north remain very popular for backpackers both old and young. Blue water, the prettiest beaches, mangrove forests, mysterious caverns like the one at Song Sôt combine with sharp peaks to photograph. The flora and fauna, includes a few of the world's rarest flowers and the intriguing golden-headed Cat Ba langur -a kind of monkey. The archipelago is a great base for rock climbing, hiking , kayaking an other water sports. The ideal time to visit Vietnam is between December and February when temperatures are mild.
Tip: Vietnam is a large country and you need at least three weeks to cover its length.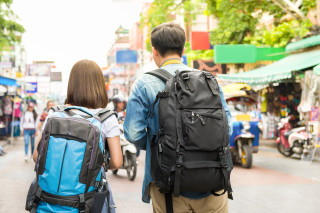 More travel tips for backpacking in Asia
Heavy packs make travel in Asia cumbersome, so pack as lightly as possible. Make sure to bring warm clothing and raingear as weather can be changeable. The rainy seasons differ depending on where you are, so always be prepared. Hostel accommodation is cheap and good quality. Pack a sleeping bag and bag liner, earplugs, torches, towels and swimming gear -it will come in handy. For information and comparison of prices on flights and accommodation in Asia visit CheapTickets.co.th.
---
The best countries for backpacking in the world