Best Travel Podcasts You Must Listen To
Podcasts have seen exponential growth in popularity since they first appeared in the mid-noughties. Podcasts offer a slice-of-life style journalism that covers all sorts of topics. Travel podcasts are a popular genre, especially with those planning a trip or who are generally interested in travel. Other podcast genres such as history and culture can also offer new insight into a destination or just be a welcomed travel companion. This list of the best travel podcasts answers both these important questions; what are the best podcasts to listen to while travelling and what are the best podcasts to inspire you to travel?
What are some of the best travel podcasts you must listen to?
Zero to Travel
One of the most acclaimed and popular travel podcasts in the world, Zero to Travel has been at the forefront of travel podcasting since 2015. Episodes vary from travel tips and travel news to featured destinations. The bitesize-style content is aimed at everyone from seasoned travellers to those who are just started to dip their toes into international travel.
BBC Earth
Both a podcast that inspires one to travel, but also the perfect, often soothing companion for your vacation. Whilst certainly not a 'travel' podcast per se, the BBC Earth podcast features amazing stories about humanity, nature and science, that are of interest to anyone who is fascinated by the world beyond their own doorstep.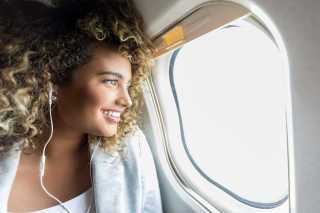 Excess Baggage
This Radio 4 podcast is effectively an audible travel magazine, and a great choice for those looking for travel inspiration. No longer in production, but still available to download, Excess Baggage was a pioneer in travel podcasting and the episodes are still relevant to today's traveller. Episodes cover topics as far-ranging as bridges, ordnance survey, travelling with kids and special travel quizzes. Many are also destination-themed episodes featuring places all over the world as far-reaching as Antarctica, Australia or the Alps. Presented by John McCarthy and Sandi Tosvig from 2010-2012, these podcasts are warm and engaging. but packed with essential travel knowledge and insight.
The Adventure Podcast
Perfect for anyone planning an adventure holiday and looking for more than just a little inspiration. The episodes of The Adventure Podcast consist of long-form dialogues between the filmmaker Matt Pycroft and some of the world's most adventurous explorers and outdoor enthusiasts. Not content with simply covering the highlights of any given adventure, the podcasts explore the deeper stories of people and places, delving well beyond the pages of a travel brochure.
Ramblings
Another BBC Radio 4 production, this time presented by Clare Balding. All episodes of Ramblings take place during a walk in the British countryside with a wide ranging line-up of fascinating guests. Notably enlightening episodes include Beeley Edge with David Blunkett, Reigate with a group of asylum seekers and a wilderness walk in Machhynlleth with George Monbiot. As well as providing an excellent back story to the rural side of the UK, it makes for pleasant and interesting listening wherever you are in the world.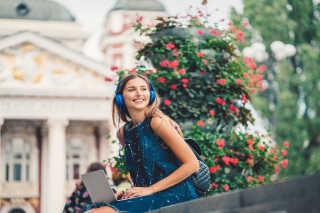 Dan Snow's History Hit
History podcasts are one of the surprise success stories of the podcast world, offering something much more interesting than a school textbook ever could. One of the most popular of these is Dan Snow's History Hit. His extensive collection of episodes throws the spotlight on various historic events from all over the world. European history does get a greater share of the airspace however, making the podcast especially suitable for those visiting European cities and looking for more insight into their chosen destination.
The Adam Buxton Podcast
One of the most well-established and popular podcasts of all time. The Adam Buxton podcast collection is sheer chit-chat joy between the comedian Buxton and a choice assembly of other comedians, intellectuals and generally fascinating individuals. The perfect way to while away a long flight, to unwind after a day of sightseeing or to accompany you round an art gallery.
The Rough Guide to Everywhere
An eclectic and somewhat abstract travel guide to 'everywhere', the Rough Guide people bring their extensive travel knowledge to podcast form in order to offer a series of thought-provoking episodes. These podcasts tend to take listeners far further off the beaten track than a standard guidebook ever can, zeroing in on fascinating human stories from around the world. It serves as both a great inspiration for travel and an excellent travel partner during a trip. Wherever you go and whichever podcasts you take with you, find your flight with CheapTickets.co.th.
---
Want to read more travel tips?