Explore Southern Europe by bike
Explore Southern Europe by bike
Are you an adventurous traveller? Then a bike trip is just what you need! And we have put together the best cycling travel destinations in Europe for you. Ready for your next adventure?
Where is the best cycling destination in Europe?
---
1. Cycling holiday in Madeira, Portugal
The volcanic island of Madeira is becoming a hotspot for cyclists, many touring companies are even making cycling tours to discover the island by bike. Even though there are no path dedicated for this activity, there are safe routes which you can follow by bike to explore this beautiful island, which involve rough roads and rugged terrains to make it a bit more interesting. Using a bike to discover the island it's to be said the best option as it will make it easier to see the most of its magnificent sights, plus you are helping the environment by not using a car to travel around this island. Do you dare to try it? While biking you will also enjoy the quiet bays, picturesque parks and spectacular cliffs.
And best of all: the weather is excellent all year round!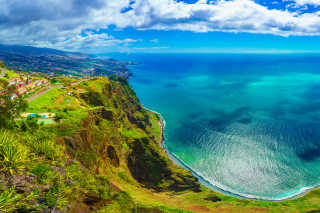 2. Cycling holiday in Tuscany, Italy
Magnificent vineyards, picture-perfect olive trees and picturesque medieval villages high up in the mountains - the mountains of Tuscany have it all. Tuscany is said to be the perfect cycling location offering one of the best riding conditions. But also because regardless of your experience, you will be able to enjoy the most of this destination by bike. The more experience cyclists can enjoy multiple-day tours with its hilly terrain, making it a bit more challenging. When the less experienced can take the bike and enjoy the beautiful views and pituresque towns in a unique way.
This makes Tuscany beautiful and daring. And don't forget to try the specialties of Tuscany: Fiorentina steak, truffle oil and Italian gelato.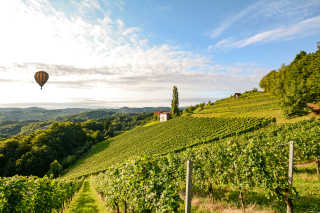 3. Cycling holiday in el Camino de Santiago, Spain
Yes, the well-known Camino de Santiago, also known as the 'Way of St. James' is not only bustling with countless pilgrims, it is also an excellent route for cyclists! People have been walking this route for over 1000 years, and for most of that time walking was necessary as any other transportation was a bit more pricey. But now that bikes are available for a fair price, if you want to explore the Camino de Santiago by bike, it is completely possible! It is said that cycling this iconic path is even better as it saves time, it's better for your legs, and you get to explore more off trail.
No matter from where you'll start, arriving to the famous Cathedral of Santiago de Compostela is the best part of the route, apart from meeting other travellers along the way, whether on foot, by bike or by car.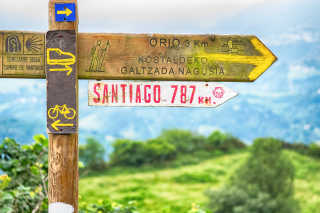 4. Cycling holiday in Croatia
Croatia is one of the best destinations for any type of cyclist, but specifically an ideal destination for mountain biking. This beautiful country is home to an amazing variety of terrian, perfect for any ability and experience level. From the region of Dalmatia with over 3,000 km of trails, to Istria with 1,000 km, you are for sure not getting bored when discovering this country by bike. You can also bike in the city of Zagreb and it surrounds which has over 30 mountain biking trails, or in one of the eight National Parks around the country.
Ready to set out on a bike tour from the deep green inland in Istria, towards the shores of the Adriatic Sea, past historic hilltop villages and bustling ports. Take the ferry across to the island of Krk, or the so-called 'Happy Island Rab', and climb the rugged mountains on a mountain bike.
Let the action-packed day end with a nice glass of wine in hand and a view of the breathtaking sunset over the Adriatic Sea - what could be better?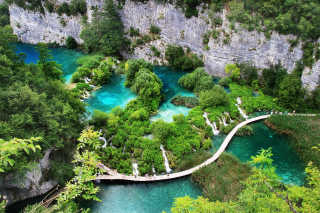 5. Cycling holiday in Slovenia
Everyone has heard of the 'Tour de France', right? But did you know that there's a 'Tour of Slovenia', too? Showing that Slovenia is a perfect destination for cyclists! Slovenia's natural diversity makes it a must to discover by bike, from the beautiful alpine trails and bike parks to cycling around the vineyards in the Dolenjska and Prekmurje regions. While Slovenia has many regions for mountain bikers, you can also enjoy a bike path along the seaside perfect for a family-friendly holiday.
The best part of this cycling destination is that the country is ready to receive cyclist tourists, by having a variety of cyclist-friendly accomodations. Some of them are even certified cyclist-friendly accomodations and depending on their ratings they offer different facilities and services.
While discovering this country by bike also remember to sample fresh artisanal cheeses from local herdsmen in the mountains and freshly caught sea bass on the coast.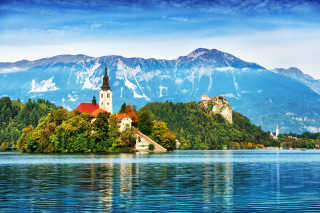 6. Cycling holiday in Piva Canyon, Montenegro
And lastly, but not least, we have the Piva Canyon Road in Montenegro, which is not for the faint-hearted. Even if the road is asphalted, it does not make it that much easier for the cyclists, as this road has quite many curves making it a bit more fun, but also going up to 220 m high. Also along the road you can find the Mratinje Dam, one of the highest dams in Europe giving you an astonishing view of Montenegro, which would make that challenging ride worth it just for the view. Most impressive, apart from the view, are the 56 tunnels dug by man into the gorges.
The route stretches over 136 km. With a bike you can decide at any time how much you want to challenge yourself.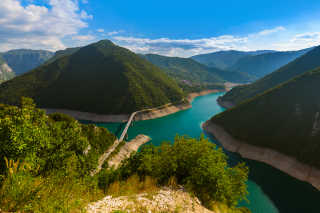 7. Tips for your biking trip
Here are 6 tips to make your biking trip as smoothly as it can be:
Having a map with you is useful in case your phone/GPS fails.
A cell phone (mobile device)/map holder on the handlebars can prove to be very helpful if you don't want to bike with your phone on your hand.
Make sure you have an air permeable and comfortable helmet.
Download a biking app. There are now numerous bike apps that help with route planning.
Check that the bike is roadworthy, even if you rent it on site. Check that the lights, brakes and bell work.
Make sure you have the necessary accessories with you, such as a bike pump, repair kit, a spare bike tube and a bike lock.
---
Now that you know some of the best destination for bike trips in Europe, which one are you trying out first? Is it to Portugal? Or maybe Spain? Or would you like to try Montenegro first? Or do you want to explore a different cycling destination in the world? No matter which one it is, check out our best deals with CheapTickets.co.th.
---
Want to read more?