Flexible Options To Consider When Booking For Future Travel
Flexible Options To Consider When Booking For Future Travel
Countries around the world are cautiously trying to find the best approach in reopening their borders and lifting travel restrictions. Some are also in discussion in establishing 'Travel Bubbles'. For many of us, we are itching to travel and have already started planning a post-lockdown getaway!
However, if there's anything that we've seen these past few months, the nature of the COVID-19 pandemic is nothing if not unpredictable. As such, here are four flexible options that CheapTickets.co.th offers that you might want to consider when booking your for future travel so you can travel with a peace of mind!
New Feature: Flexible Ticket
Due to the COVID-19 pandemic, many airlines have changed their flight schedules. As a result, a new option has been created for flexible travel. With our flexible ticket, you have the option to change and re-book travel dates for FREE! This way you will be able to reschedule your holiday at any time if you decide to change your mind or not be able to commit.
The flexible tickets options are available when the icon shown in the image below is displayed. Whether the flexible ticket options are available also depends on the airline. We strongly urge travellers to check the conditions of the airlines that you would like to fly with before you book your ticket!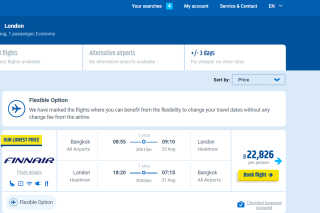 Screenshot of how the 'Flexible Ticket' icon looks like.
Travel & Cancellation Insurance
At CheapTickets.co.th, we work with AIG to offer you with travel & cancellation insurance!
Travel Insurance
Protecting yourself with travel insurance is important so that you can travel without worrying! With the comprehensive package from AIG, you are covered for the following (as shown in the image below) :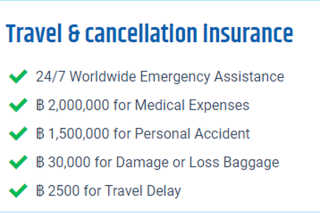 Cancellation Insurance
If you are worried about your flight or trip of getting cancelled for reasons beyond your control, this insurance from AIG might be an ideal solution. If your trip is cancelled due to any of the following unexpected events occurring within 30 days before the date of departure from Thailand (except item 4):
Death, or Serious Injury or Sickness of the Insured or his or her Family Member prevents the Insured from traveling in accordance with the itinerary
Unexpected strike, riot, or civil war which is out of the Insured's control prevents the Insured from traveling in accordance with the itinerary
The Insured is subpoenaed to present as a witness in court, or receives a mandatory writ from the court
The Insured's permanent residence is seriously damaged from fire, flood or similar natural disasters such as typhoon and earthquake within one week before departure, resulting in the Insured being unable to travel in accordance with the itinerary
For more information regarding travel & cancellation insurance, click here.
AirHelp+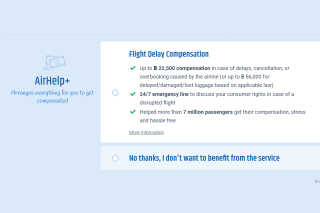 Screenshot of AirHelp+ add-on at checkout.
Flight delays and cancellations are no strangers to travellers today. Did you know that you can actually get compensation for these flight disturbances? If this is all brand new information to you, here's a guide on how to claim compensation with AirHelp+.
You will be able to add the 'Travel & Cancellation Insurance' as well as 'AirHelp+' options to your booking at checkout! In the meantime, here are some tips on how to plan your first post-pandemic trip!! 📝