What to pack for a beach holiday?
What to pack for a beach holiday?
What time is it? It's summer time! It's time to have a fantastic sun, sea and sand vacation! Whether it's a full day or a few hours, you will have fun if you're well-prepared for it. Sometimes packing is not as simple as you expect when it comes to finding the perfect solution to what to pack and what you need to pack. Maybe you will travel with your friends, family, children, or maybe you plan to go alone. In either case, this ultimate packing guide will help you pack the essentials to deal with all kinds of situations for a perfect beach holiday.
What to keep in mind when packing for a beach holiday?
---
3 Tips before packing 🧳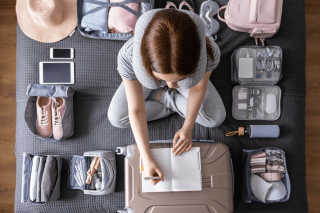 Choose the right bag
You can choose the bag based on the length of your beach trip and how many items you are going to carry. You may need to have more things when travelling with your family or kids than when you travel alone. Besides, the waterproof bag will make sure everything won't be stained with seawater or sand.
Well-organise the items
Putting things in order is essential and will make your vacation easier. The items you want to pack vary in size and category. In this case, you can prepare some packing cubes, which will save your time in packing and make it easier to organise your items.
Make the most of the space
There are a wide variety of items that need to be packed, and the way of packing is especially important in order to fit everything in. For example, you can fold or roll up clothes and towels tightly to get more space for other items. You can also get a bath towel that is designed for travel, and this kind of bath towels are lightweight and save even more space.
---
Beach vacation packing list 📝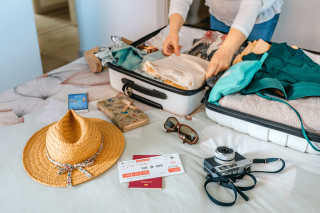 Travel essentials 💳
It's important to carefully think about the things of value you'll be taking with you. You can put these essentials in a waterproof container and put them in a separate compartment of the bag. Anyway, don't bring too many valuables and always keep your guard up with your personal belongings while travelling.
❑ Cell phone
❑ Wallet (credit/debit card/cash)
❑ Insurance card
❑ Passport/Visa/ID's
❑ Copies of documents
❑ Face masks
❑ Emergency contacts
❑ Contacts/Glasses
❑ Medications/First aid kit
Sun Protection Essentials 🧴
First of all, no matter how good the sunbathing is, please remember to protect yourself from burning. Usually, it would work better if you wear sunscreen 30 minutes before exposure to the sun and reapplied every 2 hours thereafter in equal amounts. Wide sunglasses could also provide better eye protection. Please also take care of your sunglasses in case of getting crushed or swept away by the waves. Additionally, it would be nice if you could use environmentally friendly sunscreen. Let's sustain the planet from small steps.
❑ Sunglasses
❑ Reef-safe sunscreen
❑ Sun hat
❑ SPF lip balm
Clothing & Shoes 👙
When you struggle with choosing which clothes you need to pack for a beach gateway, remember the trick of packing less and packing light. Less is more! But just in case of unexpected situations you can also consider packing spare of everything. Anyway, clothing packing is your personal choice.
❑ Swimsuit
❑ Swim cover-ups
❑ T-shirts
❑ Tank tops
❑ Shorts
❑ Dresses
❑ Skirts
❑ Light Jacket
❑ Workout clothes
❑ Underwears
❑ Bras
❑ Socks
❑ Flip flops
❑ Scandals
❑ Water shoes
Toiletries 💄
❑ Towels/Washcloth
❑ Tissues
❑ Cotton buds
❑ Hand Sanitizer
❑ Toothbrush/Toothpaste
❑ Dental floss
❑ Shampoo/Conditoner
❑ Shower gel
❑ Shower cap
❑ Razor
❑ Skincare products
❑ Makeup
❑ Makeup remover
❑ Deodorant
❑ Perfume/Body spray
❑ Feminie-hygiene products
❑ Vitamins
❑ Hair dryer
❑ Hair styling products
Beach gears 🤿
❑ Beach towel
❑ Beach blanket
❑ Beach umbrella
❑ Beach chairs
❑ Beach wagon
❑ Beach toys
❑ Beach safe
❑ Pop-up beach tent
❑ Inflatable floats
❑ Swim goggles
❑ Waterproof phone case
❑ Snorkelling gear
❑ Portable fan
❑ Wet bag
Entertainments & Electonics 🎧
The sand and water could easily damage your electronics. You can put a waterproof case on electronics or keep them inside a zip lock bag. Always check and empty your pockets before jumping into the seawater.
❑ Book
❑ Kindle/iPad/Tablet
❑ Headphones
❑ Portable speaker
❑ Board games/Video games
❑ Camera/GoPro
❑ Portable phone charger
❑ Batteries
Food & Drinks 🍪
Eating on the beach with the sublime sea view is so chill, but you still need to keep an eye on your food. Everyone needs food, including birds. Seagulls are notorious thieves of food, and they prefer food handled by humans. They are cute but a bit aggressive. So keep your food safe before it's suddenly gone.
❑ Water bottle
❑ Cooler bag
❑ Snacks
❑ Prepared lunch
❑ Reusable straws
❑ Reusable cutleries
❑ Reusable trash bag
❑ Energy bar
Baby care essentials 🍼
❑ Baby food
❑ Sippy cup
❑ Pacifiers
❑ Bottle warmer
❑ Snack container
❑ Disposable bibs
❑ Disposable placements
❑ Diapers
❑ Diaper bag dispenser
❑ Swim diapers
❑ Stroller
❑ Baby sunscreen
❑ Baby sun hat
❑ Baby wipes
❑ Baby beach pack & play
❑ Blankets
---
Extra tips for planning a wonderful beach holiday 🏖️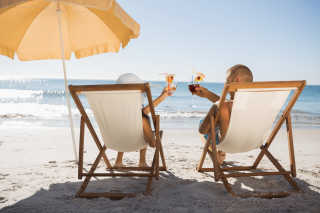 To avoid stress and make yourself in a hurry, you would better start packing a day in advance, or at least the night before you leave. In this way, you can make sure you won't leave anything important behind.
Be careful of the jellyfish and sharp rocks that may hurt while in the water and also while on the beach.
Before you leave, make sure to check the surrounding area. Clear and take any trash, and let us save the planet with less environmental footprints.
Maybe it's also good to have binoculars with you. You can have a stunning view of the beach and sky, and it is also convenient for you to keep an eye on your travelling companions who're having fun in the sea, safe and sound.
---
Alright, beachgoers, are you ready to head to the beach to enjoy the silky warm seas and endless sunshine? Check and compare our great flight deals on CheapTickets.co.th and start planning your dreamy beach break. Be well-prepared and enjoy!
---
Want to read more?