The Rise Of Touchless Travel
The Rise of Touchless Travel Post-COVID
From social distancing, crowd management, gloves, hand sanitizers to masks - these are measures taken by airports around the world to combat the spread of the COVID-19 virus. Airports have also taken enhanced measures such as exploring innovations and introducing technology to create a safer travel environment for its passengers.
The rise of touchless travel will be evident in airports and this may be the new norm in the post-COVID world. Here are five predictions of how touchless technology will be revitalising your airport journey:
1. Touchless check-in and baggage drop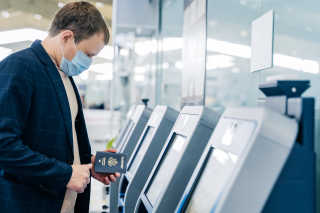 To tackle the spread of the COVID-19 through common touch-points, checking in and dropping of your baggage will become a completely different experience. This solution has already been introduced at Avalon Airport. Avalon Airport is the first airport in Australia to introduce a touchless airport check-in and baggage drop.
Instead of touching screens, travellers will control their interaction with the kiosk and bag drops via head movement. Cameras in the kiosks and baggage drops will associate the movement of the traveller's head with the movement of a cursor on the screen. Furthermore, the kiosk will be able to read a passenger's passport just by holding them open in front of the camera. In other words, a passenger will no longer need to insert their passport into the passport slot.
2. Touchless airport security
Waiting in long queues for airport security may be a thing of the past. RapidScan has developed advanced body scanners as well as bag scanners, which will replace manual searches done by staff, minimising human contact and eliminate the need for you to remove items such as your laptop or liquids and placing them on trays. This removes potential cross-contamination as nobody is handling your personal items other than you and expedites the screening process.
3. Vital Signs Detection Kiosk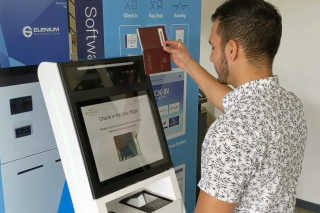 Image courtesy by Etihad Airways
Since the start of the COVID-19 pandemic, airports around the world have been rolling out preventative safety measures such as thermal screening for incoming and outgoing travellers. However, there's also a new technology that enables us to check our vital signs!
Etihad Airways, the national airline of the United Arab Emirates has rolled out kiosks developed by Elenium Automation that have the ability to measure your vital signs such as traveller's heart rate and respiratory rate. The kiosk will connect you to a doctor via video if requested. This new touchless solution will help to help identify medically at-risk travellers.
4. Ultraviolet Self-cleaning Lavatories
The discussion on whether utilising ultraviolet light to kill the COVID-19 infection has recently been in the news, which reminded of us when Boeing developed a 3-second self-cleaning lavatory using ultraviolet light in 2016.
After each use, the self-cleaning lavatory uses ultraviolet light to disinfect touch surfaces of an airplane bathroom such as toilet seats, sink, and countertops which gives additional layers of protection from germs and bacteria.
5. Touchless shopping
In response to the COVID-19 pandemic, stores in the airport are predicted to implement touchless shopping experiences for their customers. Travellers who are keen on shopping in the airport may need to adapt to placing their orders via apps, digital vending machines and virtual 'shopping walls'. Passengers will be recognised via biometric data, and can also have their purchases delivered directly to their hotels or homes.
Unanimously, we can all agree that our air travel experience will no longer be the same! Besides touchless travel, take a look at how else coronavirus could change the way we travel 👀.