What can I do in Taipei during a 48-Hour stopover?
A stopover in Taipei gives you ample time to visit the region's most important landmarks and tourist hotspots. From the Chiang Kai-Shek memorial to numerous colourful, holy temples, the Aurora Art Museum and the bustle of Dihua Street in Datong District, there is plenty to keep you busy over a weekend, maybe even enough to inspire you to plan a longer stay! Located close to the port city of Keelung, the capital city of Taiwan offers visitors a modern city with historic roots and a sense of ancient religious majesty. If you're asking yourself, "What can I do in Taipei in 48 hours" take a look at our list below for some suggestions.
Must-see attractions
The Taipei 101 Observatory is one of the most popular attractions in Taipei. Its observation deck offers panoramic views of the city, different exhibits, good food to enjoy and gift shops where visitors can buy souvenirs. Yangmingshan National Park provides a taste of natural beauty and is famous for its hot springs and the Qixing Mountain volcano. The National Chiang Kai Shek Memorial pays homage to the general and once ruler of China and the Shi-men ting night market is ideal for some retail therapy. Taipei nightlife is exciting and busy with plenty of karaoke, live music, cocktail bars and clubs to enjoy. The Taipei Zoo Maokong Gondola ride is a half hour, four kilometre trip in a glass-bottomed 'Crystal Cabin' that offers a perfect view of the historic teahouses below.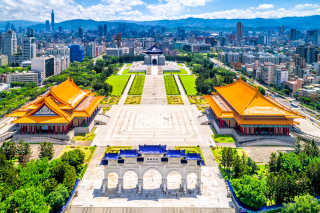 Stop and take the perfect picture
Elephant Mountain or "Xiangshan" in Chinese is so-named due to its elephant-like shape. Many tourists climb the mountain to take selfies and photos with friends and family. You can hike to the top of the mountain in about 15-20 minutes, but will have to overcome quite a few stairs. About 10 minutes in, you will reach the fondly named 'photographer's platform'. The next stop is Six Giant Rocks and people tend to climb on top of them to get a great photo! At the top, you will find the Giant Rocks Platform and can marvel at the Taipei cityscape and take as many pictures as you like, including some amazing shots with the 101 Observatory in the distance.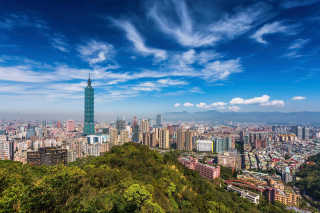 Things to see in Taipei
Embrace the arts in Taipei and go to an evening performance at the National Theatre and Concert Hall. These amazing performances showcase classical legends from the region, and performers or acrobats show off their gaily painted faces and striking costumes as they dance and sing to opera music. The Songshan Ciyou folk temple is a blaze of colour and sculpture and you should definitely make a stop here before you leave. Bedecked with boldly painted dragons and other important figures the temple is dedicated to the goddess Mazu. Visit the 95 metre Miramar Ferris Wheel to admire the views of the city and adjacent national parks. In winter, enjoy the cherry blossoms of Tian Tuan temple and in spring marvel at the fields of calla lilies in Yangmingshan National Park.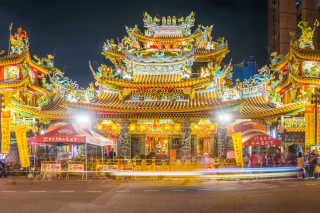 Sample local food in Taipei
Beef noodles and beef noodle soup are some of the most popular foods in Taipei, loved by both locals and visitors alike. You will also find an excellent variety of soup dumplings to enjoy. Other tasty traditional foods include minced pork rice, oyster omelets, scallion and daikon pancakes, spicy hot pot meals and pork pepper buns! Shi Yun fried chicken is deep-fried in potato flour, spices and garlic that you can buy from restaurants and street vendors in the city. Vermicelli is one of the most popular foods in the city and you will find it in a variety of different dishes, the most famous of which is probably oysters and vermicelli.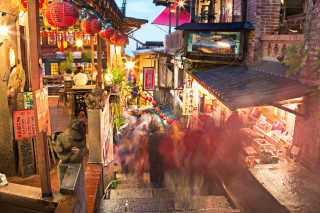 Things to buy in Taipei
Don't forget to stock up on the best oolong tea from the Taipei teahouses and some mini sky lanterns to take home as souvenirs. The city is the best place to buy jade statues, ornaments, and jewellery. You can also find a variety of decorative Chinese knots and Taiwanese glove puppets from vendors and markets in the city. There is traditional Chinese art on display and the famous oil paper umbrellas. Nougat bars, castella sponge cake, pork paper and sun biscuits are typical edible treats you want to stock up on while in the city. Also don't forget to stop and grab a box of Taiwan's delicious pineapple cakes. These cakes are divine and available almost everywhere in Taipei and also at the airports.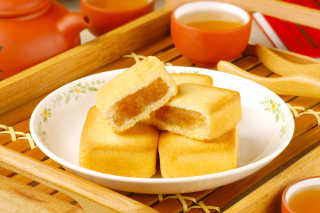 ---
To compare prices on trips to Taipei and other destinations visit CheapTickets.co.th.
---
Want to read more on beautiful places in the world?