The Essentials of Flying with Babies and Children
The Essentials of Flying with Babies and Children
For most parents, flying with a baby or child isn't something they particularly look forward to. However, good preparation goes a long way. The first step is figuring out the basics: ticket, seat, and luggage arrangements. Because airline policies vary, it is important to check the specific regulations of your airline. But to give you an idea of what to expect, this blog provides an overview of the most important rules you should know about. That includes the following topics:
From what age can babies take flights?
Some airlines allow babies to fly when they are as young as two days old. Others allow babies to fly after two weeks. In some cases, for example after a Caesarean section, you may need medical clearance. As always, check with your airline first. Doctors generally encourage parents to wait with flying until babies are at least six weeks old, to give their immune systems time to develop.
The ideal travel time
From a parenting point of view, the ideal age to travel would be between three and nine months. At that age, the baby's immune system is strong, but the baby is usually not heavy yet. Plus, they are usually still sleeping a lot instead of crawling about, making them easier to handle on an aircraft. Besides your baby's needs, it is important to consider your own. Traveling with a very young child can add stress to traveling, which can be stressful at the best of times.
Separate seat versus lap seat
For children of two years and older, a separate seat is mandatory. Infants up to two years of age are normally allowed to travel on their parent's lap. When traveling with an infant on your lap, you will be provided with an extension seat belt. On long haul flights, a bassinet is usually available. If you prefer to book your baby a separate seat, you will need a car seat that is approved for use on an airplane.
Ticket fares for babies and children
On domestic flights in the US and Canada, infants under the age of two often fly for free if seated on their parent's lap, and some airlines charge a (discounted) fare. On international flights, airlines often charge 10% of the adult ticket price. If you buy a separate ticket for a child, some airlines charge the full adult rate, while others have a discount rate for children between the ages of 2 and 11. Also, remember that you will need to arrange a passport for your baby when flying internationally.
Baggage allowance for babies and children
If you purchase your child a separate seat, it will come with full baggage allowance. This can be useful, as all parents know that the stuff you need to bring for a kid quickly adds up. If you are traveling with your child on your lap, don't count on extra checked baggage allowance. Be prepared to check your child's luggage with your own. Many airlines do allow for extra hold luggage when traveling with a child on your lap. Also, be sure to check what the hand luggage restictions are before your flight.
Special baby and child equipment
Many airlines allow you to bring a stroller or pushchair and/or car seat free of charge. A collapsible stroller can typically be used right up to the gate, where the crew will store it in the hold or cabin. If you don't want to drag a stroller around airports, consider using a baby carrier or sling. Liquids such as baby lotion are limited to 3.4 ounces (100 ml). This restriction does not apply to baby food and milk.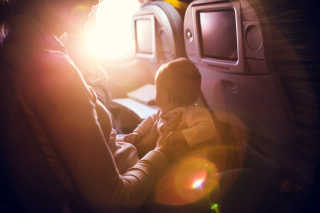 Tips for a stress-free flight
Are you feeling nervous about flying with your infant? You are not alone. Take this advice from parents who have done it before you:
Do a quick diaper change before boarding the plane

Feeding your baby during take-off and landing helps to relieve the pressure on their ears

Bring enough toys to distract your child and keep them entertained throughout the flight

Don't be afraid to ask for help, the cabin crew will be happy to assist you

Try to relax: a stressed mommy or daddy makes for a stressed child
If your child is under two years of age, you get to decide whether you want to travel with your child on your lap or in a separate seat. Whatever you decide, be sure to check out the ticket prices, seat arrangements and luggage allowance of the airline you want to fly with first.
---
Now that you know how to travel with your babies and children, book your getaway through our flights page. Seeking travel advice or inspiration? Take a look at our travel tips blog. For all your travel needs, visit CheapTickets.co.th!
---
Want to read more travel tips?