Things you should not do when travelling
Things you should not do when travelling
There's no denying that tourism is vital to some countries, but there's nothing worse than the aftermath that's left behind by a bad visitor. From littering to ignoring cultural differences, our list of things you should not do when travelling can help show you your responsibilities as a traveller. From learning local customs and words, to acting with patience and humility, take a look at what you can do to be a great traveller, and the common mistakes to avoid.
Respect values and customs
A good traveller is respectful of the places they visit, considering the customs, values and practices of the local community. What are some bad travel mistakes in this context? This includes forcing your own values onto others or trying to imply that your customs are superior. If the locals use different eating implements to you, for example, learn how to use them. Retain an open mind, remember that ethics and morals are not absolute; they have evolved over many years and differ from place to place. What might be considered unthinkable in one country might not be in another. A common bad practice is to wear inappropriate clothes, especially when visiting religious sites. Always follow guidelines on acceptable dress; your own opinion is not relevant here.
Be sensitive to local history
Avoid asking locals about historic tragedies such as war or genocide, unless the conversation is started by them. What may be a fascinating topic to you could have personal triggers for a local resident, especially if it happened in the last century. Even events that happened earlier than that may have political nuances that you don't understand. It's also best to avoid criticising the royal or political elite, in many countries, especially outside of the western world, royal families and political figures are revered.
Avoid over-haggling
Over-haggling is one of the most common examples of bad practices when travelling. A bad traveller will fiercely haggle in a marketplace, just because they can. It's true that in many countries haggling for an item is common practice, but when the value of something is easily affordable to you, it's just plain rude to try and get it for a cut price, especially if you come from a rich country.
Take your time
A bad traveller might jump the queue or huff and puff behind other people who are taking their time. As long as you arrive at the airport with plenty of time there's no need to get stressed. Remember that whilst you are on holiday, other people are going about their daily lives. Whether you're at a ticket office, in a bar, or waiting to board a coach, you are the one on holiday, and that means you are the one who has the time to step back, be patient and allow others to go first. Remember travelling is a privilege that many people, including residents of the country you visit, may not enjoy themselves.
Reduce your impact
As well as respecting the people, a good traveller respects the place. Large footfalls at historic and natural sites can cause pollution, litter and even degrade the site itself. Make sure your visit has as little negative impact as possible. Take your little with you, or even considering off-setting your flight to negate your carbon footprint.
Be prepared
A good traveller is well prepared. Researching the history and culture of the destination and even some of the language before they travel. Where possible learn some basic, essential words of the local vocabulary, especially for 'please', 'excuse me' and 'thank you'. English is widely spoken in global cities and in tourist resorts all over the world, but that doesn't mean you shouldn't make an effort. Simply talking more loudly in English because someone doesn't understand you isn't just counter-productive, it's rude. A good traveller will also take responsibility for themselves, which will avoid them having to lean on local services. Buy a map so you don't get lost, stay safe by avoiding risk, be sure to have comprehensive travel insurance and make sure you have enough money (and back up cards) for all eventualities.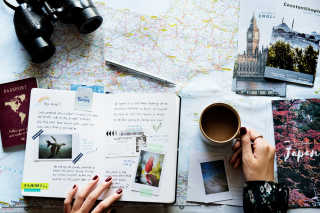 Be a great traveller and have a great time
Wherever you go, do your research first and make sure you have a really good understanding of the destination. With good planning and great manners, traveling will always be an enjoyable and rewarding experience. Book your flight with CheapTickets.co.th and find competitive flight prices to destinations all over the world.