10 Tips for Hiking with Young Kids
10 Tips for Hiking with Young Kids
Quality time with your children, a chance to immerse them in nature and a way to burn off boundless energy – what's not to like about hiking with kids? It builds independence while encouraging curiosity about the world around them. Whether you're an expert at family hiking trips and holidays or wondering how to start these 10 tips for hiking with young kids will help you hit the trails safely.
---
1. When can kids start hiking?
Hiking is great for relieving the stresses of family life but it's best to wait until your baby is at least a month old before starting - young babies are more susceptible to the sun and temperature extremes. As the months pass, how far you go depends on your stamina and a good baby carrier. Put young babies in front carriers where they can happily nestle against you. By six to nine months, a supportive back carrier will be more comfortable for you both. If you've got older kids but your family has never hiked before – just get out there and start walking!
2. Successful hiking with toddlers
When hiking with toddlers, be prepared to carry them some of the way. At other times, they'll want to find their feet and walk. Simplify this by keeping to flat trails and save hills for later. A toddler walking slows down your pace but you'll get so much fun watching them explore their surroundings. Take time to let them have fun at this stage and you'll have no arguments about hiking as they get older. Just be sure to carry plenty of water and snacks.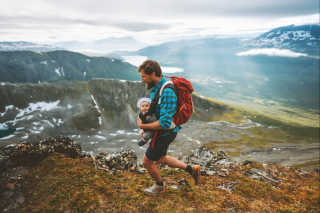 3. How far can kids hike?
For happy hiking, plan routes that suit the youngest hiker in your party as nothing spoils the day more than a tired grumpy walker. As long as they're happy, there's no need to limit them.
Ages 3-4: most kids can hike around 1.5 km on the right terrain.
Ages 5-6: they should comfortably be walking three to five km at their own pace.
4. Get the hiking gear sorted
Kit them out in the right clothing - cotton trousers or shorts, layers of tees, sweats and a sunhat - for enjoyable and comfortable hiking. Add sturdy hiking or walking shoes and cotton socks. Pack extra clothes for when they get wet and muddy and don't forget spare nappies for babies. Take their wellies if the hike is going to involve puddle-jumping fun!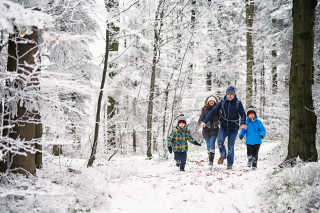 5. What kids need to know about hiking
Ensure kids know the importance of caring for their environment. Teach them to 'leave no trace' by taking all their (and anybody else's) litter home. Apart from litter, the only things they should take are photographs (and the odd pebble, stick or leaf). Don't pick flowers or fungi or take home any wildlife.
6. Preparing kids for hiking
Prepare kids for a lifetime of enjoyable hiking by starting them at an early age. Plan frequent short hikes to build up their stamina and before you know it, they'll be asking when the next one is. Get them involved in planning the route and supplies. The more investment they have in the experience, the more they'll enjoy it.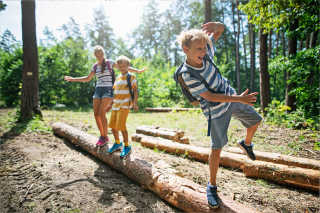 7. Ground rules for safe hiking
Hiking should be fun so keep rules to a minimum. They're only needed to keep them safe.
Kids should keep you in sight at all times, stopping at junctions so the rest of the group can catch up.
Without scaring them, teach them what to do if they get lost. Maybe do this at home as a role-play activity.
When kids are old enough to have their own phones, ensure they know how to call emergency services.
Carrying an old-fashioned whistle is always a good idea – three sharp blasts is a universal distress signal.
Remember that hiking safety begins with you. Model safe behaviour. Don't take risks and always follow any warning signs.
8. Add fun to the hike
For babies and young toddlers, a cuddly toy, comfort blanket or dummy (pacifier) is all that you need. For older children, hikes are a fun way of learning about the natural world. Jump in puddles, identify trees and flowers along the way and see who can spot different birds or small mammals. Make up a 'treasure' or 'scavenger' hunt to take and sing songs or tell stories as you walk. All kids enjoy taking turns at leading the group especially when the adults have to do funny walks or actions. When grumpiness kicks in, it's time to head home.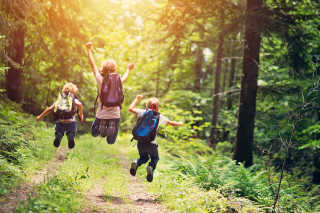 9. Planning for safe hiking
While it's great to just see where the trail goes, when little ones are involved a little bit of planning ensures everyone's fun and safety. Check out the route and weather forecast and make sure you're all wearing the right gear. Take age-appropriate equipment such as a safe baby or toddler carrier, a plentiful supply of water and snacks, baby wipes, suntan lotion, a small first aid kit and an entertainment plan. With young children, hit the trails early in the morning while their batteries are fully charged. Burning off their energy early may even guarantee you a peaceful family afternoon.
10. Have basic first-aid skills
Having some first-aid knowledge is useful for any parent and a small first-aid kit should be part of your hiking equipment. At the very least it should include sterilising wipes for cuts and grazes, antiseptic spray, a stock of plasters and, depending on your hiking holiday destination, some insect repellent.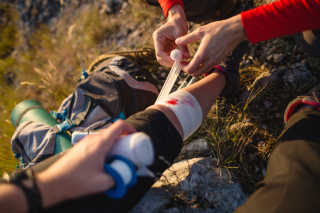 Family hiking holidays
Family holidays are the perfect time to introduce kids to the joys of hiking. With a little forward planning and safety awareness, fun hiking holidays can be enjoyed in destinations around the world. At CheapTickets.co.th, we're ready to help you choose that destination.
---
Want to read more travel tips?