Top 12 things you should not miss while travelling in Turkey
What you should not miss when visiting Turkey?
If you are looking for an amazing destination with a rich history, diverse cultures, pristine nature, and stunning sea view, please look no further than Turkey. From bustling cities and ancient civilizations to unique landscapes, find and enjoy more than you came for with these top 12 things things you should not miss to do while in Turkey!
---
12 unmissable things while travelling in Turkey
1. Hot air balloon over Cappadocia
2. Wandering in splendid Istanbul
3. Shop in mesmerising Bazaars
4. Please your taste buds with Turkish cuisine
5. Get more and more caffeine
6. Take a time machine in Ephesus
7. Swimming in Pamukkale
8. Discover attractive Antalya
9. Go on a gulet sailing
10. Hiking on the epic Lycian Way
11. Watching a Whirling Dervish Ceremony
12. Relax yourself with a Hammam
---
1. Hot air balloon over Cappadocia
You cannot miss the whimsical Cappadocia while traveling in Turkey! The ancient volcanic eruption and natural erosion of the rocks created what is now a unique lunar-like landscape.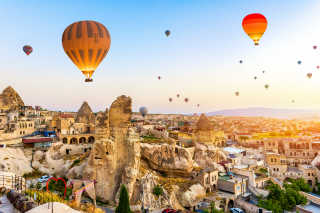 There's no experience as magical as watching hundreds of hot air balloons dancing across the sky as the valley rock is dyed golden by sunrise and sunset. Indulge yourself in the otherworldly beauty of Cappadocia by doing some hiking, exploring a few underground caves, and even going on a hot air balloon.
---
Best Instagrammable spots in Cappadocia 📸
Take advantage of the most photogenic Cappadocia and explore more, from roof terraces with a view and colorful Turkish carpet shops to panoramic sunrises and sunsets.
Roof terraces: Sultan Cave Suites
Mithra Cave Hotel
Koza Cave Hotel
Red valley
Love Valley
Pigeon Valley
Fairy Chimneys
Sunset Point Goreme
Galeri Ikman Carpet Shop
Sultan Carpets
Balloon Launch Site
Museum Hotel
The Open Air Museums
---
2. Wandering in splendid Istanbul
As the only city in the world that sits on two continents, Europe and Asia, and was the capital of the Roman, Byzantine, and Ottoman Empires with a history of more than 2,600 years, Istanbul is where the East meets the West and where Christianity and Islam coexist. A modern metropolis with a rich history, magnificent architecture, stunning sea view, and delicious food, what else do you expect?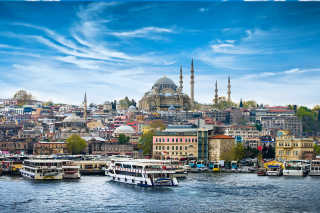 It's a great showcase of how different cultures collide. Wandering in Istanbul and exploring the glorious mosques, museums, churches, palaces, and small streets that will leave you speechless, you will be amazed by the complex cultural layers of this grand city.
---
Top 10 impressive sites in Istanbul 🕌
Blue Mosque
Suleymaniye Mosque
Hagia Sophia Mosque
Topkapi Palace
Dolmabahce Palace
Beylerbeyi Palace
Chora Museum
Bosphorus Strait
Basilica Cistern
Kiz Kulesi
---
3. Shop in mesmerising Bazaars
Bazaar culture is a unique treasure of Turkey and is a must-see for tourists. When you step into the ancient, colorful, architecturally beautiful bazaars, you will feel like you are in the story of 'one thousand and one night'.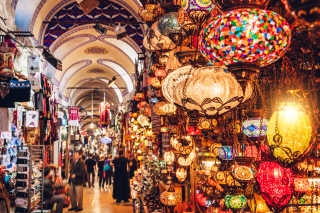 Grand Bazaar in Istanbul is the most famous one in Turkey and one of the largest and oldest covered markets in the world. There are more than 4,000 stalls and vendors offering almost endless kinds of products, including groceries, Turkish handicrafts, handwoven carpets, delights, jewelry. Get lost in this whole new world, a dazzling place you never know.
---
4. Please your taste buds with Turkish cuisine
Apart from the magnificent architecture, another highlight of Turkey is Turkish food! Open your mind to the vast and diverse Turkish cuisine, one of the world's famous cuisines. Like Turkish culture is a mix of the East and West, Turkish food contains countless influences and tastes.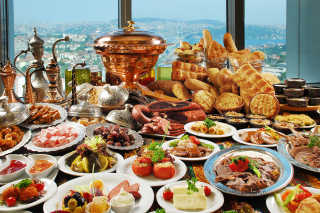 Spoil your day starting with Kahvalti, a traditional Turkish breakfast that serves plentiful dishes including olives, cheese, butter, spreads, fresh-baked bread, and black tea. It's more a ceremony to start a day than a regular survival breakfast since it's usually a family-oriented affair. Be prepared to please your taste buds and "afiyet olsun" (bon appetit)!
---
The most signature Turkish dishes 😋
Şiş kebap (the skewered kebap)
Şakşuka (eggplants and vegetable ragout)
Köfte (Turkish meatballs)
Pide (Turkish pizza)
Hamsili Pilav ( pan fried hamsi)
Kumpir (baked potato with fillings)
Meze (cold appetisers includes about 20 items)
Baklava (Turkish dessert)
Lokum (Turkish Delight )
Bulgur Pilavı (bulgur pilaf)
Kuru Fasulye (White Bean Stew)
Su boregi (pastry)
Dolma (Stuffed Grape Leaves)
---
5. Get more and more caffeine
When it comes to caffeine, you cannot separate Turkish people from coffee and tea. Considered some of the strongest in the world since it's rich and highly caffeinated, Turkish coffee can date back to centuries within the Ottoman Empire and has been listed on the UNESCO Intangible Cultural Heritage List.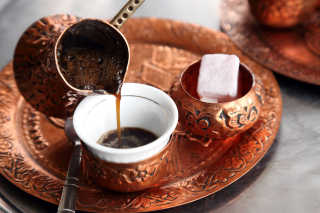 Likewise, black tea is also a popular drink in Turkey and it's consumed massively. Who can refuse the fancy teapot and special curved tea glasses full of traditional Turkish tea?
---
6. Take a time machine in Ephesus
Leave a day for this amazing world heritage site and the world's best-preserved Roman ruins, Ephesus, located about 80 km south of Izmir in Turkey. Ephesus was an ancient port city that was considered the most significant Greek city and trading center in the Mediterranean region.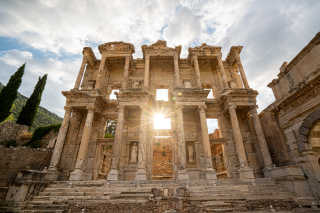 It continued its significance as a business and cultural center through Roman times. Discover the fascinating history by walking around the ancient streets, shopping areas, and bath areas, visiting the awe-inspiring Library of Celsus, Great Theatre, and Temple of Hadrian. You will feel the real city life in the ancient world.
---
7. Swimming in Pamukkale
Pamukkale, often translated as "cotton castle", offers dreamy landscapes like its dreamy name.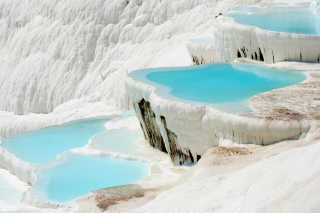 It's famous for the spectacular snow-white travertine terraces and the calcium-rich water that flows from hot springs and gets deposited on the hills below, forming these incredible terraces. Visitors can swim at the public travertine pools and Cleopatra's pool, which is included in your entrance ticket.
---
8. Discover attractive Antalya
If you are wondering about visiting a place in Turkey where you can relax, laze around or enjoy swimming, surfing, and canoeing, it must be Antalya! Antalya is located in southern Turkey between the Taurus Mountains and the Mediterranean sea and has been an important port in the Mediterranean since the Eastern Roman period. Make the most of your trip by spending a day exploring the old town centre and idling on the bustling beaches with impressive views.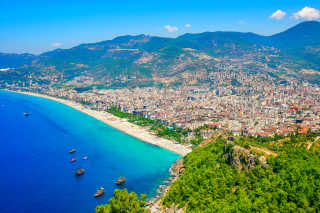 Top best beaches in Antalya 🏖️
Konyaalti Beach
Mermerli Beach
Inciralti Beach
Kemer Moonlight Beach
Kaputas Beach
Lara Beach
BLM Beach
Cleopatra Beach
Damlatas Beach
Incekum Beach
---
9. Go on a gulet sailing
If you're a fun-seeker, don't forget to spend a day on a gulet cruise. Gulet is a traditional-looking wood boat that originates from Turkey. It's the most beautiful way to get close to Turkey's stunning turquoise coastline, which offers pristine nature and a blue sea.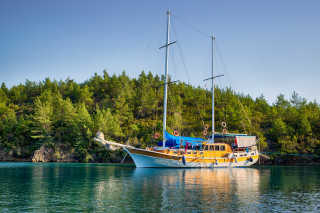 Enjoy an unforgettable and relaxing day out on the sea sailing around Bodrum, Marmaris, Gocek, Dodecanese, Fethiye, or Hisaronu area. You can choose the area according to your preferences. Usually, lunch or dinner will be served on the boat. Enjoy the most of the cool and cozy time by sailing with the breeze!
---
10. Hiking on the epic Lycian Way
Turkey is a fantastic place to turn on your nature mode! Go hiking and see more and more from the top, it's always good to get into real nature to experience how sublime it is. Lycian Way, Turkey's most famous long-distance walking trail, features a 540 km footpath around the coast of Lycia in southern Turkey, from Fethiye to Antalya.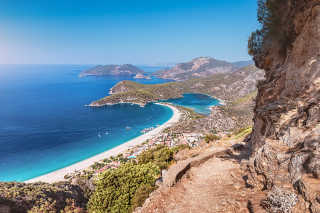 Don't be overwhelmed by this amazing number! You can start and end at different spots where you prefer, and there's good public transport among these passing spots. Lycian Way passes 25 historical sites, including the UNESCO World Heritage-listed Xanhos and Letoön. Step on the old Roman roads, lying between mountains and the Mediterranean coast and admire the most magnificent view from above.
---
11. Watching a Whirling Dervish Ceremony
This meditative whirling ceremony can trace back to the 13th century in Konya. The ritual consists of dancers with white robes, a singer, a flute player, a kettle drummer, and a cymbal player.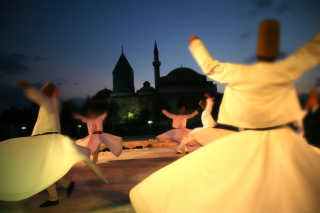 There are several places for visitors to experience the authentic whirling dervish ceremony.
Konya: Konya is the best place to learn about traditional dervishes' culture.
It's famous for the Mevlana Whirling Dervishes Festival, held between November and December annually (based on the Islamic religious calendar), and it's also where the master of the dancing art, Mevlana Rumi Jelaleddin, was buried. During the celebration, several events, including music, dance, and spiritual events, are held in Konta to commemorate him.

Istanbul: If you're spending some time in Istanbul, don't miss a visit to the Galata Mevlevi House Museum, which holds a weekly Sunday sema ceremony.

Bursa: In Bursa, you can also enjoy short daily evening sema ceremonies in Mevlana Culture Center.
Extra travel tip: check what other popular annual events you can not miss while travelling in Turkey.
---
12. Relax yourself with a Hammam
Traveling is exciting, but also tiring for sure. After visiting and experiencing so many things in Turkey, treat yourself with the physical and mental relaxation of a Turkish bath, which is a steam bath that can date back to the 14th century with cleansing and pampering associated with Islamic culture.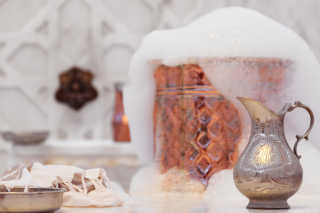 There are a lot of services you can choose from. The traditional Turkish bath package normally includes 45 minutes of washing, body scrubbing, a foam wash, and a massage. The attendants inside will guide you through the whole process. Let your tensions and jetlag fall away for your getaway by Ottoman-style relaxation.
---
The most popular baths in Istanbul 💆🏻
---
Book your flight, explore and enjoy Turkey!
Now you have it's time to plan your magical Turkey journey! Compare and contrast our international flight deals and book your tickets on CheapTickets.co.th.
---
Want to read more?