Top 10 Travel Hacks At Home
'Staycation' is the new vacation!
Sitting at home doesn't have to be boring at all! You can create a holiday feeling with a little imagination. Ever heard of a 'staycation' or a 'holistay'?
You can travel without leaving your own home or neighbourhood. On top of that, it is also cheap! Airline tickets, hotels, restaurants… These are all unnecessary costs for a staycation. We have listed some travel hacks for your home especially for you.
#1 Turn your garden into a holiday resort
#2 Camping trip in the backyard
#3 Have a spa day
#4 Yoga retreat in the living room
#5 Cooking dishes from all around the world
#6 Shake shake shake: cocktail time
#7 Water fun in your own water park
#8 Organize a film festival
#9 Game night
#10 Lose yourself in a good book
---
#1 Turn your garden into a holiday resort
Finally! Summer is here! What are you waiting for? Time to make your garden holiday proof. No garden? Make your terrace a heavenly paradise.
Here you have some ideas:
Get outdoor lounge chairs
A Kiddie pool or foot bath is a great way to beat the heat
Make a DIY hammock
Brighten up your garden with flowers
BBQ time!
Light it up: fire pit, candles and lights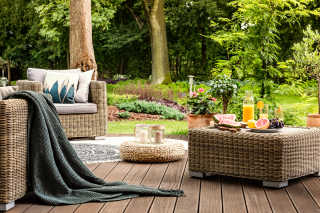 #2 Camping trip in the backyard
Now that your garden is ready for a holiday, it is the perfect place to pitch your tent. No camping gear dragging up the mountain and a clean toilet nearby! That sounds perfect, right? This is a great adventure for children and can be a romantic evening for couples.
What can you do during your camping trip?
Watch the stars together
Build a backyard firepit
Make smores or roast marshmellows
Tell horror stories
Make shadow puppets with a flashlight
#3 Have a spa day!
Holiday is all about unwinding. A spa day is perfect for that! Convert that bathroom into your personal spa, curl up in your bathrobe and just relax. Put a face masks on, long on the couch with a glass of wine in your hand... In a few seconds you forget that you are at home.
Some tips for your spa day:
Facial masks
Cucumber slices
Bath foam and shower gel
Oils with a wonderful scent
Scented candles or scented sticks
Healthy snacks and fancy drinks
With the two of you? Give each other massages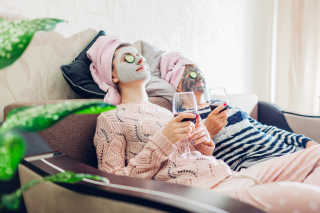 #4 On a yoga retreat in the living room
With a staycation it is also important to keep moving. Do you want to stay fit and unwind at the same time? Yoga is the solution. Put on comfortable clothes and get a yoga mat. It is best for beginners to view a tutorial before proceeding, otherwise the staycation might be over quickly. Ouch! Those who venture into a yoga session should first create a relaxed atmosphere: find a spot with some sunlight, light some scented candles and put on soothing music.
Do you still have doubts about your flexibility? You can start meditation in addition to yoga. This will make you completely zen.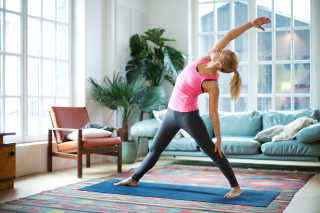 #5 Cooking dishes from all around the world
How about Indian curry? Or Vietnamese Pho? Or Mexican tacos? You can enjoy world cuisine from home. You don't have to fly to Japan for sushi or to Spain for paella, you can prepare it yourself! Find a few recipes and start cooking!
Are you really not a kitchen princess? No problem, that's what home delivery is for! Or let that kitchen prince of yours cook for you.
Tip: don't forget dessert!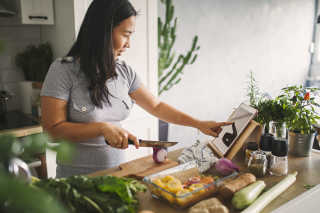 #6 Shake shake shake: cocktail time
What is a holiday without a tasty drink in hand? Drinking cocktails is fun, but making cocktails guarantees at least as much fun. Do the kids want a drink or no alcohol for you? Make a delicious mocktail, just as tasty! You will find endless recipes online or you can always try your own creation. Are you suddenly super thirsty?
Here are some popular cocktails:
Classic Mojito or 'Nojito': mint and lime flavor
Moscow Mule: A mix of sweet and bitter, with ginger flavor
Strawberry Daiquiri: deliciously sweet mix of strawberry and lime
Tip: these cocktails also have a mocktail version!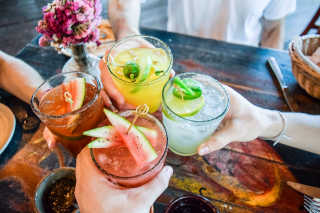 #7 Water fun in your own water park
Is it really warm outside and do you need refreshment? Your staycation residence may not have a swimming pool, but with some imagination you can turn your garden into an amazing water park. No garden? Then take a day trip to the park around the corner.
Here you have the essentials for water fun:
Water balloons
Inflatable pool
Garden sprinkler or garden hose
Water slide
Water squirt guns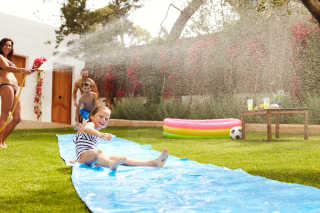 #8 Organize a film festival
The Cannes Film Festival is nothing compared to your cozy, cozy movie night. Do you have a projector? Organize an open-air film festival! No projector? There is nothing wrong with an old-fashioned evening in front of the television. Collect pillows and blankets and make a cozy sitting area. Don't forget the snacks: popcorn, chips, nuts... The more, the better. But which movie? Those who have Netflix or another streaming service can choose from an extensive range of films and series. Prefer to watch old school videos or DVDs? Go for it!
We made a list of the Top 20 Famous Film Spots that will have you filming your own journey when you get to travel again!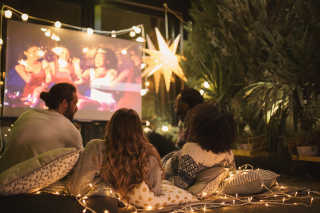 #9 Game night
Fancy an evening of laughter and fun? Dust of the party games and play all night long or until someone can no longer stand his loss. In a world full of technology, we sometimes forget that we can also enjoy ourselves perfectly 'offline'. And board games aren't just for kids! Adults can enjoy it just as much!
Here you have some popular games:
Active: Charades, Twister ...
Cards: UNO, Apples to Apples, Munchkins, 5 Second Rule ...
Think: Jenga, Catch Phrase ...
For those who can stand their loss: Monopoly, Life, Risk ...
Quiz: Trivial Pursuit, Pictopia ...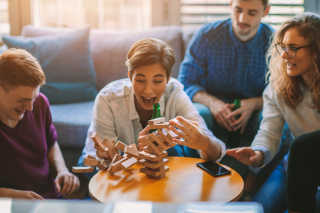 #10 Lose yourself in a good book
Last, but not least: dreaming away with a good book (or 10). Does boredom start to strike during your staycation? Read it away with a romantic novel, a thriller or a detective. Make a cup of tea, settle in the couch and take your thoughts to other places. There is a book for everyone that caries you completely to another world.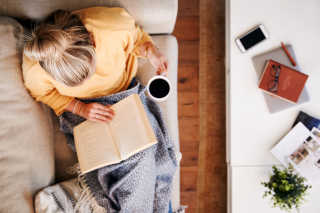 ---