5 Travel treasures in idyllic France
5 Travel treasures to visit in idyllic France
To many of us, France is the country of fashion and love. Edith Piaf serenading you from every speaker throughout your house and a bottle of French wine by the hand. From Paris to Marseille there is something for everyone. Get inspired and explore more through these travel treasure locations in idyllic France.
Where are the top hidden gem places worth a visit in France?
---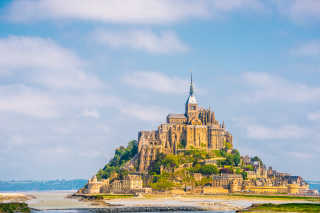 Do you love unique and spellbinding views of beauty? Then Mont Saint-Michel is the perfect place for you. A UNESCO World Heritage site, Mont Saint-Michel is 66 kilometres from Rennes by car. The Abbey was built between the 11th and 16th centuries and currently houses 50 including monks and nuns.
Access to the old town is free while the cost for admission is €10 for adults and children under 18 years old are free if you want to go inside the abbey. Parking costs €9,10 in the low season and €14,20 in the high season. More information can be found on the official website. The picture speaks for itself, a must-see destination in France.
---
✈️ Closest airport to Mont Saint-Michel Bay: Rennes St Jacques Airport (RNS)
🏰 Places to visit around Mont Saint-Michel Bay: La Chapelle-Saint-Aubert, Grand Degré, Terrasse de l'Ouest, Enceinte des Fanils...
---
2. Castelnaud-la-Chapelle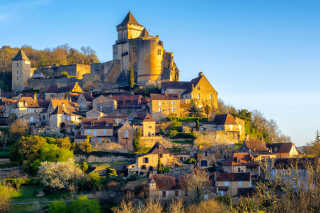 Nestled in the Dordogne Valley, Castelnaud-la-Chapelle is a step into another world, the castle and surroundings is a beautifully maintained look at medieval architecture and medieval life. There is a medieval weapons museum with many authentic antiques as well as many videos explaining the history and impact of the castle and the area. The castle also overlooks the Dordogne, 360-degree views of the river.
Castelnaud-la-Chapelle is 2h30 minutes away from Bordeaux and can be accessed by train and car. Costs for a visit are €10,90 per adult, €5,50 for children between 10 and 17 years old and children under 10 years old are free. Guided Tours cost €45 for a group of up to 45 people. The opening hours for July - September are 09:00 to 20:00. More information can be found on their official website.
---
✈️ Closest airport to Castelnaud-la-Chapelle: Airport Bergerac Dordogne Périgord
🏰 Places to visit around Castelnaud-la-Chapelle: Chateau de Castelnaud, Château des Milandes, Ecomusée de la Noix...
---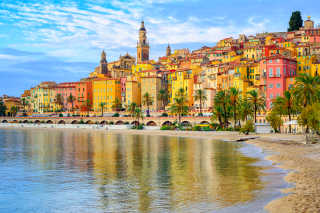 The French Riviera is a well-known area in France for a beach experience with significant sights such as Saint-Tropez and Cannes. These destinations are popular among travellers, with a reputation for being the playground of the wealthy. What if I want something less pretentious? The answer is Menton. Menton is a beach destination that is more off the beaten path, still, part of the French Riviera, the town has all the excitements and attractions of the more popular towns along the same coastline.
The proximity of Italy to Menton gives the town a certain Italian flair. If you are looking for a better blend of luxury and more affordable destinations. Menton is for you. Nice is the closest city to Menton with a distance of only 38 kilometres between the two. There are many great culinary spots in the city as well as the world's number one restaurant, Mirazur. Enjoy stunning white beaches to relax the day away.
---
✈️ Closest airport to Menton: Nice Côte d'Azur Airport (NCE)
🍋 Places to visit around Menton: Jardin Botanique Val Rahmeh, Les Jardins Biovès, Promenade du Soleil, Cemetery of the Old Chateau, Basilica St. Michel...
---
4. Gorgeous Gorge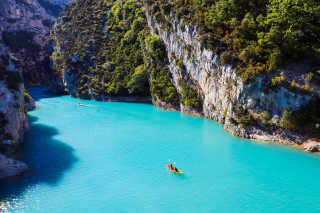 In the south of France, there is a travel treasure that is unlike the rest. The Verdon Gorge is located only a few hours drive from the French Riviera. This destination is more on the adventurous side of travel with an emphasis on adventure travel.
Hundreds of kilometres long the Verdon Gorge is utter tranquillity. Take a kayak down the river and experience spectacular views from your kayak, have a swim in the clear water and most importantly relax or take a hike above the river to get even better views of the surroundings.
---
✈️ Closest airport to the Verdon Gorge: Nice Côte d'Azur Airport (NCE)
🏞️ Places to visit around Verdon Gorge: Lac de Sainte-Croix, Parc Naturel Regional du Verdon, Notre Dame de Beauvoir...
---
5. Vertical Village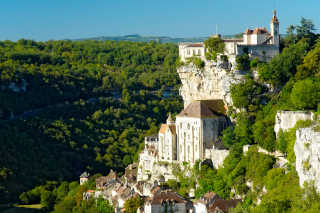 To excite your inner Francophile, we will end this list with a classic French town Rocamadour, known as the vertical village is perched on the side of a limestone cliff. The village is a well-known pilgrimage destination as it has many churches and religious artefacts from hundreds of years ago.
A visit to the Monkey Forest (La Forêt des Singes) is a must if you're travelling with kids as it is a natural reserve that houses 150 endangered Barbary macaque monkeys that roam freely in 20 hectares of forest, a wonderful learning experience. Breathtaking views and historical churches make Rocamadour a must-see destination.
---
✈️ Closest airport to Rocamadour: Brive–Souillac Airport (Aéroport Brive-Vallée de la Dordogne)
📍 Places to visit around Rocamadour: Cite Religieuse, Rocher des Aigles, Basilique St-Sauveur...
---
So now that you are aware of some of the many still hidden gems in this beautiful country, why not plan your holiday to France? Don't forget to check and compare our cheap international flight deals to France and book your flight ticket(s) on CheapTickets.co.th.
---
Want to read more?