Travelling With Kids: Pack for the Flight
Travelling With Kids
Taking a flight with your kids is a milestone that every parent needs to go through. Even short flights can be a fraught affair, with the need to keep children both quiet AND entertained for the duration. If you're worried about how you're going to keep your little ones entertained on the flight, or are desperate for some tips and tricks, then read on for our ultimate guide; travelling with kids: pack for the flight.
What to pack when vacationing with kids?
Electronics – to pack or not to pack
The ban of electronics such as phones and tablets has been lifted by many airlines, but the decision to pack them still requires careful consideration. Children who spend long periods of time on devices are more likely to suffer from pent up energy, than a child who plays an engaging game. This means a device is no replacement for real-life human play, even just a card game. However, having a kid-friendly tablet to hand can be helpful for long-haul flights. The noise could easily bother other passengers, so either pack a set of fold-up headphones or download games that can be enjoyed with the sound down.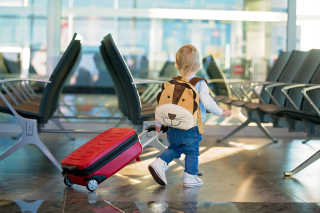 Travel games should be light but repeatable
The key here is packing games that are light and small, but that children are happy to play again and again. A pack of cards is an excellent choice for older kids because they are so versatile. Even younger kids can enjoy a game of snap or a simplified version of pairs. Most children are usually also happy to play endless games of Top Trumps, especially if you pack a set based on their favourite theme (e.g. World Cup, Star Wars or My Little Pony).
The importance of a good snack
Snacks can help keep kids occupied and will also ward off hunger-driven tantrums, but the wrong type of snack will have them running up and down the aisles with glee whilst other passengers give you dagger stares. Avoid sweets that are high in sugar and additives. Fruit sweets are a better option, as well as raisins, crackers and popcorn. Eating can also help children relax when the plane is taking-off and landing, even helping prevent the dreaded 'airplane ear'.
Are you allowed to bring your own food on board of a plane?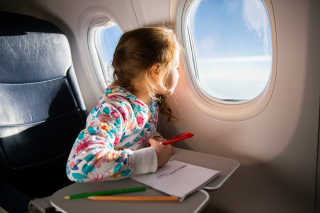 Pen and paper – an infinite tool for play
There's no need to invest in a huge range of colouring, activity and puzzle books, especially if space is an issue. A limitless amount of fun can be had with a simple pad of paper and a pen. Pack as many paper pads as you have children, plenty of biros and a few pencils. So, what are some activities for kids? Excellent pen and paper games include Town & Country, Squares, Noughts & Crosses and Consequences. If you are looking for an activity book, however, try out Usborne's 100 Things to do on a Plane, guaranteed to keep little ones occupied for hours.
5 Tips to make your waiting time at the airport as fun as possible
Weighing down hand luggage with a heavy tome or that children's classic you've always wanted them to read is not ideal. In the same way that adults look for lightweight 'airport' reads, kids need a similar approach. Try to pick books for younger children that are interactive and have plenty to look at, like Nick Sharratt's You Choose. For older children a collection of short stories from engaging writers may be easier to dip in and out of and can be shared around too. Excellent short story books for kids include collections by Paul Jennings or Terry Pratchett, full of timeless tales which are loved by children of all ages. If your child is a prolific reader or you're interested in how to pack light with kids, then consider bringing a preloaded e-reader.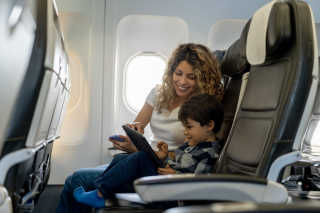 Comfy additions for long-haul flights
If the flight is long enough, you'll be hoping the kids will sleep. This process will be helped enormously if you're armed with comfy clothes and sleep accessories. A neck pillow, an eye mask, loose-fitting clothes or pyjamas and a small, familiar soft toy will all help them drop off to sleep. Fingers crossed this will earn you a bit of time to read your own book. Book your next holiday flight with the help of CheapTickets.co.th and find the best prices for the whole family.
---
Want to read more travel tips?