Unconventional Christmas Celebrations in the World
Unconventional Christmas Celebrations in the World
Around the world, Christmas is a time that people join together, but not always over the traditional turkey. As we move away from the religious connotations, there are some truly wild unconventional holiday / Christmas celebrations in the world that challenge and surprise us into new ways of looking at the holidays. Of course, there's the expected Christmas lights and parades, or the chance to meet Saint Nick in a grotto, but let's examine some of the ways different countries have embraced Christmas and made it their own to see if any take your fancy.
What countries celebrate Christmas differently?
---
For most children, Santa Claus is a legendary figure that brings children presents for Christmas, shares his North Pole home with industrious elves and delivers gifts with his energetic reindeer on Christmas Eve. Children in Austria, however, are also familiar with his evil counterpart, Krampus! This half-demon-half-goat searches the streets for naughty children carrying a wicker basket. The legend of Krampus may also be seen in Italy, parts of Germany and Hungary when people roam the streets dressed as the Santa alter-ego. Definitely a good-Santa, bad Santa combination.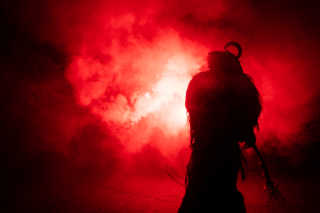 According to Italian tradition, children are visited by Santa Claus on the night before Christmas but they are lucky enough to get a second visit on January 5th, when Befana, the witch, delivers more presents. On the Eve of the Epiphany, Befana, a witch who did not present a gift to baby Jesus in the manger, repents by giving presents to every child. The children leave out food and wine to thank Befana for her generosity.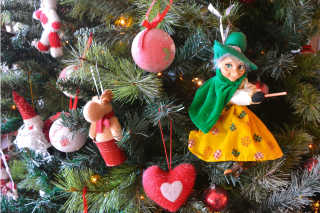 The Mummers - Latvia
In Latvia, the mummers, or street actors disguise themselves as animals or spooky, evil characters, walk to different houses to drive away any lurking evil spirits with special, lively music and traditional songs. In return, families offer them food and wine or drinks. These benevolent mummers are not allowed to reveal their true identity and use disguised voices, clothing and masks to remain anonymous.
As we all know, witches travel around on brooms and get up to mischief at night, but on Christmas Eve in Norway, witches are grounded as people take to hiding their brooms away! Norwegian children are taught that witches and evil spirits come out to create havoc on Christmas Eve so brooms are quickly hidden before midnight. Spruce logs may also be burned in the fireplace to prevent the witches from coming down the chimney.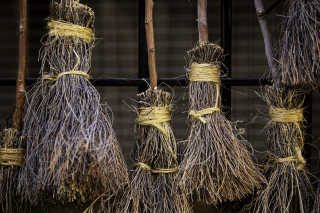 In the Czech Republic on Christmas day, single women throw their shoe over their shoulder in the direction of a front door. When the shoe lands, the family inspects it. It is believed that the woman will be married in the coming year if the toe of the shoe points toward the door. If the heel of the shoe points toward the door, she will remain unmarried for the next year.
A Ukranian legend recounts the story of a poor widow and her children who found a Christmas tree in the garden of their home. They had no money to decorate the tree, but in the morning found that the tree was decorated by a sparkling spider web, shining gold and silver in the light of dawn. For this reason, people in the Ukraine hang spider web decorations on their trees at Christmas time.
The residents of Caracas in Venezuela travel to their traditional Christmas mass in a most unusual way. Instead of walking or riding to church on Christmas morning, they get there using roller skates. On Christmas day the city's streets are closed to other forms of traffic so that the local people can skate to the church gatherings safely.
Other holidays in December
Non-Christian holidays celebrated in December, include Kwanzaa which is a seven day holiday that honours the importance of African culture. It takes place from December 26th to January 1st. Karamu is a big feast on day six. Gifts of Creativity are given and people celebrate the lighting of the Kinara. Traditional music is played and African history and ethics are highlighted.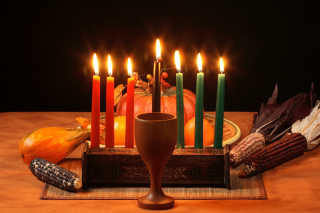 Christmas Abroad
So why not veer away from tradition? Experience another culture during the festive period and add spending Christmas in a different country on your travel bucket list. Don't forget to compare the price of flights and accomodations on CheapTickets.co.th to give yourself a seasonal treat. Happy Holidays!
---
Want to read more?