The Bluest Water Destinations in the World
The bluest water destinations in the world
Feel like travelling to a wonderful tropical place by the sea? A destination with sun, palm trees, white beaches and azure waters. Speaking of blue water... What about travelling to the bluest water destinations in the world? Think of water where you can see everything: your feet, fish and the rest of the underwater world. But also water that looks almost fake from above. Continue reading and learn more about a few surprising destinations with the bluest water in the world!
---
Places where you can see the bluest water in the world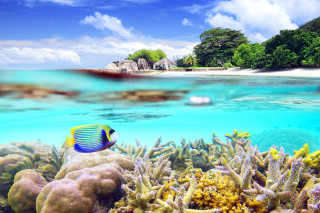 1. Enjoy the blue waters of Bora Bora
Number one on the list is Bora Bora. There's not much to say about it as it has created a name by itself, everyone knows Bora Bora, the small French Polynesian island. But there's something you should know about this fairytale destination, it's water, coming from the Pacific Ocean, is so blue that it's even unimaginable. To enjoy it even better, you can sleep in one of the beautiful houses that stand above the ocean on wooden stilts.
Add to this a white beach and countless palm trees and you have the picture of a tropical vacation. It is not for nothing that many honeymooners have already booked a trip to Bora Bora. The price tag may be a bit higher than you hoped for, but believe it, it's more than worth it for a once in a lifetime experience!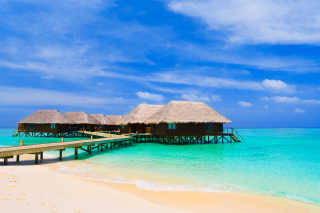 2. Extremely blue water in the Seychelles
Same as Bora Bora, in the Seychelles you can't believe your luck when you are looking at its beautiful turquoise clear waters. And yes, this destination is also loved by newly married couples. Which is to be expected as every beach in this archipelago seems to come straight out of your dreams!
Take for example, Beau Vallon beach, the most popular and one of the most beautiful beaches in the Seychelles. For even more untouched beaches, head to Curieuse Island, an island of the Seychelles that is home to about 200 people. Here you'll find a special piece of earth where, in addition to bright blue water, you might just meet a giant tortoise.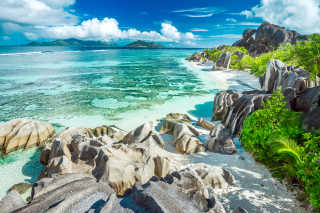 3. Eyes on Peyto Lake in Canada
That azure water is not only found in the sea which is proven by Peyto Lake in Canada. Chances are you've seen this unusual blue lake in a photo before. It contrasts well with the rugged cliffs with snow-capped peaks and the green trees surrounding the lake. In difference with the other destinations, you don't come here to lie in the sun with tropical temperatures, but to be amazed by the power of nature.
You will find Peyto Lake in the well-known Banff National Park, which is already exceptional by itself. After a short hike from the parking space, you can start looking out over the beautiful landscape where the blue lake immediately stands out. The reason why this water is so blue its because of all the minerals and silt that are carried along by the glaciers to the left of the lake. A place never to be forgotten!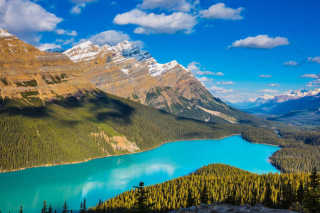 4. Navagio Beach (and other spots on Zakynthos)
The colourful island of Zakynthos is a dream if you like blue sea water. Zakynthos in Greece has several spots that you really must visit, but what should not be missing from your list is Navagio Beach. This beach, also called "Shipwreck Beach", is known for its azure waters that you can view from the cliffs.
On the beach there is a shipwreck which has become a real Instagram hotspot over the years. And underwater? You can find dozens of turtles swimming around. Even if it's great to snorkel or lie on the beach at this beautiful destination, you will enjoy this blue water the most when you are standing on top of the cliffs. If you had to describe it with one word, it would be: Wow.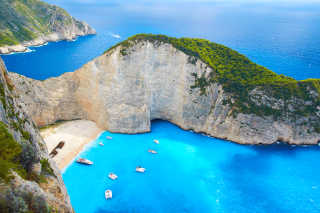 5. Swim in the Maldives' blue waters
The Maldives cannot be missing in a blog about the bluest water destinations in the world. Just like Bora Bora and the Seychelles, this is a destination where many freshly married couples travel to. Of course, this is for an obvious reason: the Maldives is known for its pearly white beaches and light blue sea water!
When you book a trip to the Maldives, it's a must to sleep in a water villa as this island group features all kinds of resorts with cottages and villas built on the water. This means you can jump from bed almost directly into the magical blue sea! Waking up in the Maldives is as refreshing as it can be.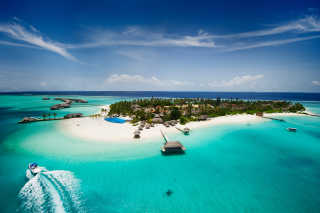 6. Enjoy the peaceful Zanzibar with azure waters
Zanzibar is the perfect destination for relaxing in one of the most beautiful blue water beaches. In the southeast of this island that belongs to Tanzania, there are some particularly beautiful beaches where there are few visitors. Many travellers love to encounter no or few other tourists during a trip. Making this destination with such beautiful sea water perfect for them!
Zanzibar is the ideal place to bring your snorkel or dive gear. Matemwe beach, in addition to sunbathing and swimming among the locals, is the perfect beach to snorkel and dive. Book a day excursion to snorkel near the coast. The underwater life of Zanzibar is so beautiful!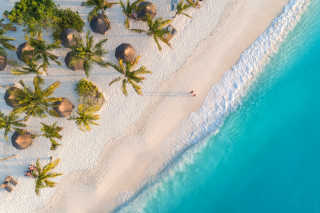 ---
Is a blue water beach your perfect destination? Then what are you waiting for? Find our best flight deals with CheapTickets.co.th and fly to these unimaginable blue beaches for the perfect beach getaway!
---
Need more inspiration for you beach getaway?