Zero-Waste Holidays
Wondering how to have zero-waste during holidays? What does it mean to have a zero-waste travel? All it takes is a little thought. Although many of us are trying to live a no-waste lifestyle or at least minimise our impact on the environment and ecology, it if often true that we forget these improved approaches when on holiday in another country as it may seem less convenient. In this case, we often leave harmful waste behind that becomes the problem of the destination country and its people. How can we be more mindful of waste generation during our holiday time and ensure we leave only footprints behind? Here are some great ideas for a zero-waste holiday:
How can we reduce waste while travelling?
Research no-waste options before you go
Go online before you leave and research supermarkets, restaurants and other vendors with no-waste options and ethics. This will save time and ensure you generate as little waste as possible. By supporting businesses with green ethics that re-use and recycle you will be able to ensure that you are not generating unnecessary waste. A short online search should uncover a list of hotels, shops. restaurants and that are going-green in an attempt to lessen their carbon footprint. Be prepared to shop, eat and sleep at establishments who care about the environment.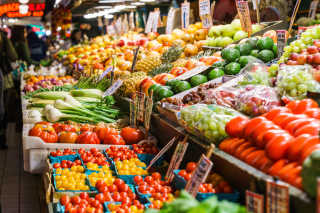 Buy organic produce from markets
Buy fruit, snacks, lunches and clothing items from street stalls and vendors. Where possible, buy locally made clothing, sarongs, sunhats or other items and try to source souvenirs made by local carvers, stone cutters, sculptors or trinket and bead sellers. Opting for this practice means you can take your own recycled or fabric bag, containers for food and gifts and support the local economy. It's as simple as packing re-usable containers into your day bag when you set out in the morning! You can even use them for leftovers at restaurants.
Buy products with no packaging
If you have to visit the local supermarkets take along a fabric bag for fruit, containers for the deli and buy drinks in glass bottles. Take a fabric bag for the day's shopping and place till slips and any packaging you can't avoid into the recycling system in the city. Many cities have glass recycling bins or can recycling programmes. Find out where to responsibly dispose of paper waste.
Don't litter
Make a concerted effort to prevent pollution in streets and on beaches and other public places when you travel. This is as simple as placing your litter in nearby bins or in a bag to take home if no bin is available. Never throw rubbish into the ocean or rivers and make sure to take your beach picnic waste home with you or discard it in a secure trash can. If you're driving, keep a litter bag in the car and separate into recycling and normal waste before throwing it away.
Stop junk mail while you're away
Junk mail is a huge problem when it comes to excess waste and should always be recycled. Before you leave on your holiday make sure that distributors don't drop any into your mailbox or leave it alongside once full. These posters and flyers blow away and end up in gutters and drains, creating pollution while you are away. Talk to local staff and ask them to avoid a flyer drop while you are away even if you are careful to let them know the house will be cared for by housesitters.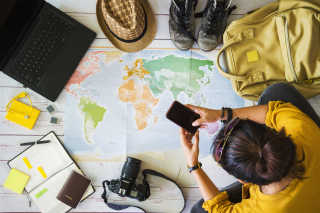 Go digital
Go digital for maps, brochures, menus, airline information and any other needs that you have while on holiday. Don't pick up paper menus, flyers, magazines or any other medium that needs disposal or storage. Instead, keep track of maps and other info using your smartphone or notebook pc. This way you generate absolutely no info-related paper waste while on holiday. Where possible use e-tickets or codes to access services.
Make a reusable kit for meals
Before you leave, create a small kit with reusable napkins, straws and cutlery for picnics and eating on road trips. This will prevent needing to discard napkins, plastic knives and forks and plastic straws. Take along your regular reusable bottle for water and drinks.
Are you allowed to bring your own food on board of a plane?
Zero-waste airlines
When you book your flight ensure you travel with an airline that is doing its best to prevent its carbon footprint. Consider your own too. Is it possible to combine your business and holiday travel by first completing business and then enjoying a holiday in the same city? Or make an effort to offset your carbon emissions by paying a little more. You can compare prices on flights with CheapTickets.co.th.
---
Want to read more travel tips?